Radiant Heating Service, Floor Heating Installation & Heated Floor Repair

Winnetka, IL, Evanston, IL, Wilmette, IL, Glencoe, IL, Highland Park, IL & Northbrook, IL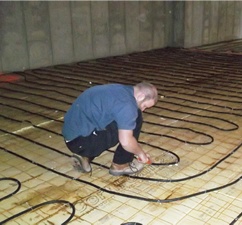 If you are looking for the ultimate comfort when it comes to heating then you want to consider radiant heating. Radiant heat is unique in that it heats your home/business by using radiant heat waves.
Here is how it works: Hydronic tubes or electric mats are installed in your floor. These in turn heat your floor. Radiant heat waves are transmitted from the floor and absorbed by the other surfaces in the room including you.
Radiant heat can be installed in all types of floors including concrete, wood, stone, tile and marble. There are a lot of applications where the radiant heat can be retrofitted to your existing floor. The team at R.H. Witt has the experience to design a radiant system that will give you years of comfort.
Radiant heating is not just for the spaces you live in. It is a great fit for garages, vehicle wash bays, pool decks and for snowmelting.
When it comes to comfort we at R.H. Witt Heating & Sheet Metal look at two things: First, that our system produces the perfect temperature for your comfort and second, that our system is quiet. Radiant heat is silent, you will never hear it operating.
Floor Heating ∴ Highland Park, IL ∴ Glenview, IL ∴ Northbrook, IL