Generator Installation & Generator Service

Glenview, IL, Highland Park, IL, Northbrook, IL, Winnetka, IL, Glencoe, IL & Wilmette, IL
Invest In A Generator For Your Home
Even though the power grid is growing more reliable every year, losing electricity is still an ever-present threat. If a storm or other event knocks your power out, your family will be left at risk as essential systems shut down. At R.H. Witt, we're committed to helping our friends and neighbors live safely and comfortably throughout the year, and one of the ways we do that is by installing and maintaining great residential generators.
How Backup Generators Work
A backup generator is essentially a secondary power source that kicks in whenever your home loses power. Within seconds of a power outage, a backup generator will sense the problem, prepare to restore power and turn itself on. The backup power continues to flow for as long as necessary, whether that's two hours or two weeks.
Benefits of a Backup Generator
Each generator we install runs on either natural gas or liquid propane (LP) fuel, but they don't require gas cans or any other manual transport. Rather, they link up to your home's existing gas or LP power supply, automatically drawing fuel as required. There's also no need to run an extension cord when the generator is in use. The system delivers power safely and automatically to your home's main electrical panel.
Speaking of automation, there's no need to manually turn the generator on when your power cuts out. Modern backup generators automatically detect interruptions in the power supply and turn themselves on, even if you're away from home. In a world where even a minor power interruption can wreak havoc on your electronics, that's a peace of mind that's well worth having.
Choosing a Backup Generator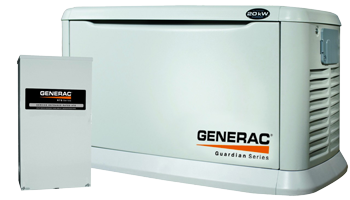 As with home comfort systems, a generator needs to be properly sized to meet your home's needs. Larger homes tend to need more power, of course, but the number of power-consuming appliances in the home also plays a significant role. Remember, you don't need to be able to power everything in the house during an outage. As long as you have enough electricity to keep essential appliances such as lighting and climate control systems running, your family will be safe.
Fortunately, our generator experts are always happy to work with you to find the right backup power solution for your home. We'll carefully assess your family's needs and recommend a generator that will meet those needs without wasting power.
Our Credentials
At R.H. Witt, we've been providing top-notch home services for nearly 50 years, and in that time, we've built a well-deserved reputation for putting our customers' needs first. We're proud to be recognized as a Carrier Distinguished Dealer and even prouder of our 99 percent customer satisfaction rate. During every generator installation project, we take care to make sure the system meets or exceeds the manufacturer's specifications and always clean up the job site before we leave. We also proudly work on electrical, air conditioning and heating systems.
Losing power doesn't need to threaten your family. Give us a call to see how a home backup generator can help.
Generator Replacement & Generator Service in Northbrook, IL
Generator Replacement ∴ Evanston, IL ∴ Glenview, IL ∴ Wilmette, IL