Indoor Air Quality Service

Glenview, IL, Winnetka, IL, Glencoe, IL, Wilmette, IL, Highland Park, IL & Evanston, IL
Indoor Air Quality Services & Products For North Shore and Northwest Suburbs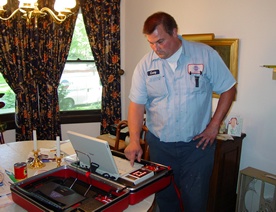 We spend 90% of our time indoors. The American College of Allergy, Asthma and Immunology states that 50% of all illnesses are caused or aggravated by polluted indoor air. This polluted air is caused by more than just particles in the air from dust, mold spores and pollen. It can also be caused by airborne viruses, Volatile Organic Compounds (VOC's) which are released from products we have in our homes, toxins and too much or to little humidity.
R.H. Witt Heating & Sheet Metal has the testing equipment to identify what is not healthy in the air that your breath in your home. Once we have the results of this test we can recommend the proper solution.
Indoor Air Quality Humidification Services
Having the proper humidity level in your home is critical. Too much humidity or too little humidity and you have created an environment for mold, bacteria, viruses and mites to grow in.
R.H. Witt Heating & Sheet Metal has the right size humidifier for your application whether the job is as small as keeping the proper humidity level in a wine cellar or as big as a printing operation where the moisture level in the paper is critical. All installations are engineered to make sure the humidifier is properly sized to do the job.
Indoor Air Dehumidification Services
When the relative humidity level is 70% or higher it can take as little as 24 hours for mold to start growing. When we encounter situations where the humidity is too high, R.H. Witt Heating & Sheet Metal has a solution. We engineer dehumidification systems that will handle indoor pools, basements and even crawlspace.
Indoor Air Filtration Services
R.H. Witt Heating & Sheet Metal installs different types of air filters depending on what your needs are. We have HEPA air cleaners which will collect up to 99% of the airborne particles. We also have high efficiency air cleaners that are also air purifiers. These units not only do a fantastic job collecting the airborne particles, they also kill any airborne viruses, bacteria and mold spores.
Call Today For Indoor Air Purification Services
Air purification is a process where we improve the quality of the air in your home. This air pollution could be caused by built up gases, toxins, volatile organic compounds (VOC's), viruses, bacteria and mold spores. Once we have tested your home to determine what is causing the indoor air pollution, R.H. Witt Heating & Sheet Metal will recommend the proper piece of equipment to solve the problem. This could be an Energy Recovery Ventilator (ERV), a UV lamp or an air-purifying air cleaner. We also offer air conditioning, electrical and heating services, call today!
Air Purification & Indoor Air Quality Service in Evanston, IL
Air Purification ∴ Wilmette, IL ∴ Highland Park, IL ∴ Winnetka, IL